Benefits of an Aerial Engineer?
Installing an aerial yourself can be a tricky and dangerous task to undertake and you most likely won't be insured if it goes wrong. You would have to purchase an aerial, set it up (may not get a signal) and then potentially pay a professional to complete the installation for you.
Our highly trained aerial engineer will fit your aerial to a high standard with no exposed cables and will purchase all the required elements as part of the job.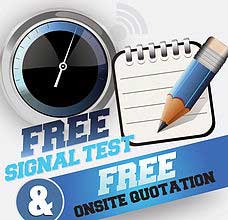 An 'Install an Aerial' aerial engineer has all the necessary equipment and qualifications to quickly and efficiently complete the required installation so that you have minimum downtime from watching your favourite T.V programmes.
Other Services:
In addition to aerial installations, we also install satellite dishes, sound bars, TV wall mounting, Wi-Fi coverage and internet fault resolutions.
We can supply you with a free quote and offer free advice on the best way to hang or fit TV equipment.
Once your aerial engineer has installed your aerial you can contact 'Install an Aerial' if any issues arise and we will arrange a visit.
We are competitive on price and offer a reliable and trustworthy service to our customers across the West Midlands. We can provide testimonials and customer feedback if you would like more information on the service we offer.
For more information please call us on tel: 08004488725